John Brian Fitzpatrick
1931-2017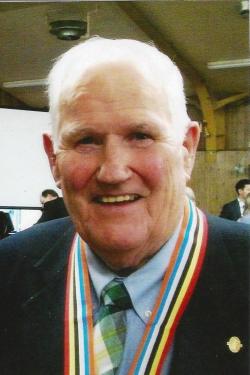 On July 12, 2017 John Brian Fitzpatrick, loving husband of Mary Helena (Donnelly), passed away peacefully at the Saint John Regional Hospital. Brian completed his journey as he lived, surrounded by his loving family.
Born in Saint John NB on May 18th, 1931, Brian was the son of John Matthew and Kathleen (Flood) Fitzpatrick.
Brian started his long working life at the Saint John Atlantic Sugar Refinery and then had a desire to serve his country as a sailor. In 1950, at the age of 19, he enlisted in the Royal Canadian Navy at the HMCS Brunswicker.
His Navy career included serving aboard the HMCS Iroquois, a tribal class destroyer, during the Korean Conflict, 1951. In 2013, he was officially recognized by the Korean government for his contributions and was granted the Korean Ambassador for Peace Medal. CPO 2nd Class Fitzpatrick retired from the Royal Canadian Navy in 1975. Brian returned to his native Saint John and using his Navy experience as an electrician, joined the ranks at the Irving Oil Refinery and later worked on the Frigate program at the Irving Dry Dock.
Throughout his long life Brian was never shy about showing pride for his wife and family, always making time for them and his many friends.
Brian took up woodworking as a hobby, and soon displayed the skill of his forefathers in the construction of his creations. "Grampy Fitz", as he was known to his many grandchildren and great grandchildren, crafted pieces of furniture for each of them which will be cherished in his memory. In addition to woodworking, he enjoyed taking Mary out for drives, exploring many culinary venues. He also looked forward to his weekly coffee time with "the boys", a group of loyal friends.
Brian was a devote Roman Catholic and parishioner at St. Rose of Lima Church -Saint John West and formerly of Our Lady of the Assumption.
Besides his wife and partner Mary, Brian is survived by his mother in-law Helena Donnelly; six children: Patti Allison (Dean) of Sunny Corner, John (Sheila) of Saint John, Colin (Christine) of Barrie, Brian (Alison) of Saint John, Jamie (Barb) of Saint John and Theresa Gatien (Joe) of Rothesay.
Grandchildren: Amanda Kingston (Justin), Tara Allison (Slade) Jamie Allison (Caitlin) John Fitzpatrick (Becca), Julie Fitzpatrick (Bryan), Megan Fitzpatrick ( Alex), Shannen and Conor Fitzpatrick, Brianne, Colin, Kieran and Liam Fitzpatrick, Jack and Caroline Fitzpatrick, Philip Gatien (Natasha) and Andrew Gatien.
Great grandchildren: Lyla, Quin and Ava Kingston, Karsyn Walls, Cohen and Hayden Allison, Carter Gatien and Kameron Jardine.
One brother Frank Fitzpatrick (Mary) of Chester, NS. In-laws: Anne Marie Fitzpatrick of Saint John, Helen Fitzpatrick of Winnipeg, MB, Louis Cuppens ( Pat) of Nauwigewauk, Rudi Seeberger (Frances) of Montreal, QC, Darlene and Ronald Hayward of Saint John and William Donnelly of Dartmouth NS; and cousins, nieces and nephews.
Brian was predeceased by his parents, four sisters: Anne Marie O' Brien, Kathleen Seeberger, Christine Cuppens and Aileen Markeson; two brothers: Donald and Patrick Fitzpatrick.
The family would like to thank Dr. William Irving for his care over the years. Mom and dad thought the world of you. To the doctors, nurses, support staff and volunteers of the palliative care unit Saint John Regional, thank you. Your compassion and excellence in care was a great comfort to the family.
Arrangements are under the care and direction of Fitzpatrick's Funeral Home, 100 Waterloo Street, Saint John (634-1965) where visitation will be held on Sunday, July 16 from 2:00 – 8:00 PM with a Legion Tribute service starting at 2:00 PM. A Mass of Christian Burial will take place on Monday, July 17 at 12:00 PM from St. Rose of Lima Parish, 541 Milford Road. Interment will take place in Holy Cross Cemetery.
As an expression of sympathy, donations to Rocmaura Foundation Inc, First Steps Housing Project, St. Rose of Lima Church or a charity of the donor's choice would be appreciated by the family. Online condolences can be placed at www.fitzpatrickfh.com.
www.fitzpatrickfh.com
Click here to View Condolences
Service Date
Monday, July 17, 2017
Service Time
12:00 PM
Service Location
St. Rose of Lima, 541 Milford Road, Saint John
---
Visitation
Sunday, July 16, 2017
Visitation Time
2:00-8:00 PM
Visitation Location
Fitzpatrick's Funeral Home
---
Burial Date
Monday, July 17, 2017
Burial Location
Holy Cross Cemetery
---
Requested Charity
Rocmaura Foundation Inc., First Steps Housing Project, St. Rose of Lima Parish or a charity of the d